Glenfarclas 1979 Special Release
17/09/16 11:30
Glenfarclas 1979 Special Release for Eiling Lim - SOLD OUT

After a long spell of silence, I decided to surprise whisky lovers with yet another exciting whisky from non other than the famous distillery of Glenfarclas at Ballindalloch in the heart of Speyside. To this day, Glenfarclas is one of only a few distilleries in Scotland to remain family owned and managed. The distillery is owned and run by the Grant family and the tradition of producing good whisky continues to the 6th generation now. The distillery has six direct-fired copper stills which are the largest on Speyside.

Everyone knows Glenfarclas is renowned for producing Single Highland Malt Scotch Whisky in the traditional Speyside style, with a heavy sherry influence and that is why I would like to surprise whisky lovers to try my atypical cask of Glenfarclas 1979 aged 37 years in a "plain oak" cask #8818. For many who would have already known that the Family Casks range from 1979 are special because they are not matured in sherry casks and they are also known to be extra fruity.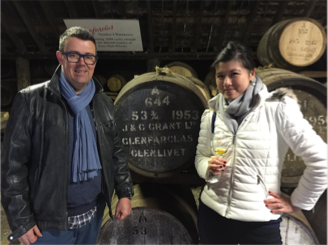 Luc & I were so lucky that we were able to taste so many of the 1979 casks in the dunnage warehouses of Glenfarclas and we found this gem in Warehouse No.8 in 2015. We revisited the distillery in April 2016 and we tasted the whisky again before we decide that this has to be bottled! It is just too good to let go.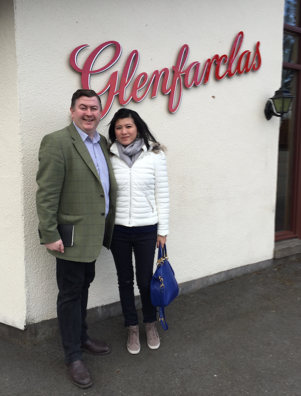 With George S.Grant, 6th Generation of the Grant Family


It is an official distillery bottling with a special release for Eiling Lim label. I am so proud and so grateful that I am able to pull this through! As I was writing this, the whisky has been bottled and is expected to arrive at my doorsteps in October. This is a preview of how the label would look like.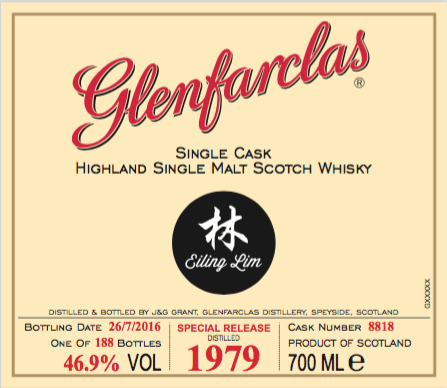 Nose: Pineapple sunshine, hints of mint, dried fruits, vanilla and light touch of oak
Palate: Orange peel, vanilla, fine oak, exotic fruits, a touch of mango and pineapple
Finish: Orange peel bitterness evolving into fruity & sweet notes with a long lingering finish


For all of you whom have supported my whisky range all these while, I would like to be the first one to tell you this great opportunity to buy it at a special pre sale price of €380/bottle. The normal price after 31st October 2016 will be €420/bottle. Since there are only 188 bottles, please do send me an email at info@eilinglim.com if you would like to order the bottle.

With so many number "8"s on the label, this is truly an auspicious whisky!