1st Release
16/02/14 13:03
Littlemill 1990/2013, 23yo, 49.8%, 1st Release, 68 bottles only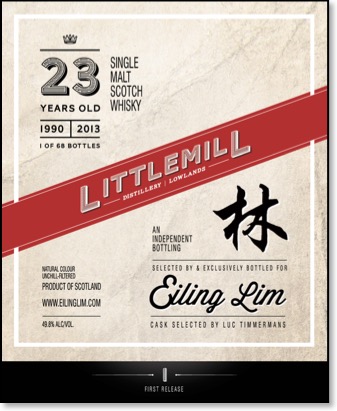 It was sometime in December 2013 that my husband and I chanced upon a few whisky samples brought to the house by a friend. The day was sunny, the weather was cool and what a beautiful day to try some whisky and eventually deciding on the Littlemill 1990 among other whisky samples on the table.

And when we sip our very first drop of the Littlemill 1990 sample, we both felt that there is something very special about this cask. Luc ran down to his cellar and he poured a dram of another Littlemill 1990 from an independent bottler which is regarded as a popular favourite and we tasted both of them side by side. To our surprise, the Littlemill sample that we had out-performed the other Littlemill in terms of taste and finish. It was bursting with fruitiness and the finishing was long and lingering. Then we decide that we have to buy this cask!

Unfortunately, we could only buy the remaining of the cask which yielded 68 bottles. Luc has decided to stop the Thosop bottlings and the Tomintoul 1968 (bottled 2013) being the last to complete the collection is now a Malaysia exclusive which is distributed by me of course! It was during that afternoon itself that Luc encouraged me to buy that cask and start a label of my own. It is a big step to take but every success begins with a step. I have no regrets in buying this cask as it proved to be a favourite among my whisky enthusiast friends.

Just as I am writing this post, 49 of 68 bottles are already being reserved before they are launched officially. More updates soon!