6th Release
16/11/14 13:04
Irish Peated Single Malt 1991/2014, 22yo, 48.6%, 6th Release, 116 bottles only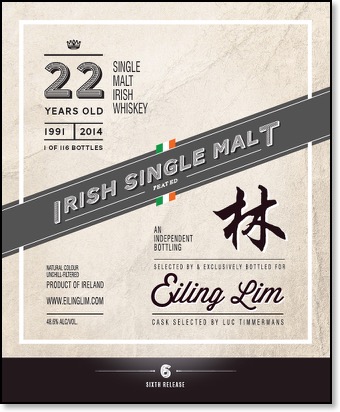 My husband and I experienced an epiphany upon tasting this UNDISCLOSED Irish "Peated" Single Malt whiskey a few months back and we said to ourselves that we absolutely need to grab this cask too. It will be difficult to sway the hardcore scotch drinkers but I'm sure this Irish whiskey is an eye-opener.

One should know that the same laws that govern the Scotch whisky industry are applied to Irish whiskey too. They are indeed some similarities between these two and in the last few years, the Irish whiskey industry has made tremendous quality whisky by going back to pure pot still, triple distillation and also small batch productions.

The top Irish single malt whiskey is just as good as many Scotch single malt whisky and therefore I decide to release this bottle to increase the awareness of great tasting whisky distilled outside of Scotland to whisky aficionados.

In this whiskey, I found a nice menthol aroma, tropical fruitiness and a hint of warm dough in an oven. The peat is very refined, mellow and subtle. A very inviting whiskey indeed. No regrets.