11th Release
24/02/16 06:30
Woohoo! We are into 2016 and the first whisky I am launching for the new year shall be from a reputable distillery in Islay. I'm proud to announce my 2nd Islay whisky in the range will be Caol Ila. It might be a young whisky but the taste will do its talking.


Caol Ila 2006/2015, 9yo, 51.2%, 11th Release, 109 bottles only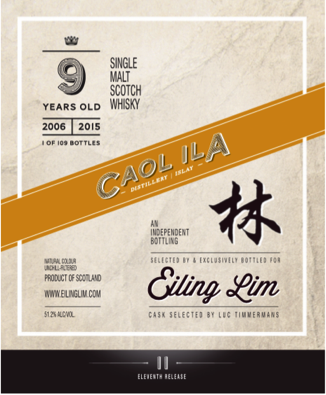 Colour: Pale yellow

Nose: Minerals, green apples, smoked fish, salty sea breeze, dry seaweed, zest of calamansi, quite medicinal with a farmy note.

On the Palate: Starts oily, licorice, sea saltiness, white pepper, long lingering chewy finish. The whisky is pure that you could define the taste without any wood that masks the whisky.


This whisky is definitely a winner and beats many other older whisky.

Reserve a bottle now at info@eilinglim.com