5th Release
16/11/14 12:56
Glen Keith 1992/2014, 21yo, 48.2%, 5th Release, 48 bottles only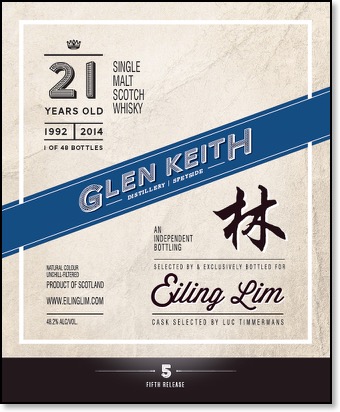 A not-so-known distillery in the Speyside region and located within a few hundred yards from the Strathisla distillery is Glen Keith. It was founded in 1957 by Chivas Brothers. Originally the distillery had 3 stills which was designed for triple distillation but in 1970 they switched to double distillation. It was very unusual for a Speyside distillery to have a "Lowland" set-up. The new stills were a novelty as they were the first gas-fired stills in Scotland.

In 1999, the distillery was mothballed and then it was sold to Pernod Richard in 2001. And in 2013, the distillery was revived. And ever since, the production has been doubled.The output of the distillery was originally used in blends such as Chivas Regal, Passport and 100 Pipers but Chivas Brothers also used it as a laboratory for innovations in production and processing.

The first real official bottling released was the Glen Keith 1983. And then later, it was replaced with the Glen Keith 10 year old. Most of the Glen Keith released today are from the independent bottlers and that is what makes this distillery interesting.

I was very lucky to stumble upon this leftover cask of just 48 bottles. Upon the first sip, I knew I had to get these leftover bottles. It was fruity and citrusy. The most important point is that I can drink this dram after dram.