7th & 8th Release
02/02/15 13:32
7th & 8th Release is now available

After a great end to the year 2014 with the Glen Keith 1992 and Irish "Peated" Single Malt 1991, we have again selected 2 wonderful whisky to start the year with a bang! The Irish whiskey was a huge success and demands were way over availability. I had quite some busy days having to disappoint my buyers. It's not something that I enjoy but then again, someone has got to do the dirty job. It has been a great year in 2014 when this label was started in May and has garnered good support from my family and friends as well as whisky aficionados from all over the world, mainly Malaysia, Belgium, Holland and Germany. I hope that I will be able to continue the wonderful whisky selection this year with the declining of good quality cask availability. This is however the sad truth for many independent bottlers not because whisky is scarce, but due to the exorbitant prices that simply makes it more difficult to purchase good whisky.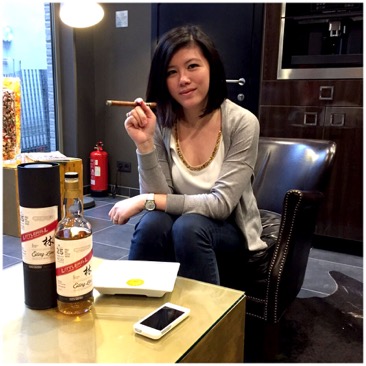 *Enjoying my Littlemill 1989/2014 exclusive release for La Casa Del Habano in Gent

These whisky have been selected meticulously at the end of 2014 and has been tasted over and over again by ourselves and also gaining the approval from some whisky lovers. They will be now available on sale from today, the 2nd of February which is also the day I turn 31 years old.

Bunnahabhain 1980/2014, 34yo, 46.2%, 7th Release, 50 bottles only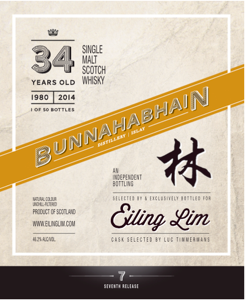 The Bunnahabhain (pronounced as Boona-hAAven) distillery is located on Islay on the north of the island. Islay is famous for its peaty and smokey whisky output but Bunnahabhain produces whisky with a very mild smokiness. Some would say that this distillery makes unpeated whisky but that is not really true. Many Bunnahabhain I have tried had a tinge of smoky/peaty aromas.

I'm actually very delighted to be able to purchase this Bunnahabhain 1980 because the tasting notes of this whisky is very much to my liking. I've always like a very balanced whisky that is highly drinkable dram after dram. This release will always be my first bottling of an Islay whisky!

On the nose, this whisky has a distinctive leathery aroma together with some hints of baked apples, dried figs and a waft of a pot of meaty gravy. A sip of it reveals more than the nose. It has a touch of bitterness that holds all the aromas together. What you get from the nose comes back on the palate with a very balanced, elegant and smooth drinking whisky. It also has very mild peat, together with a tinge of oakiness that rounds it off. It is a bottle you take with you to drink in front of a warm fireplace in the winter.

Unfortunately there is only 50 bottles for this release. I would have been delighted if there were more!


Littlemill 1990/2014, 24yo, 46.8%, 8th Release, 113 bottles only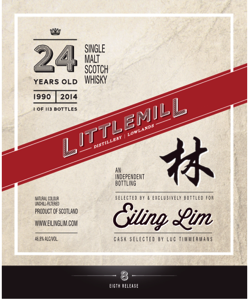 So far in the last year, I have released 3 Littlemill whisky including the exclusive bottling for La Casa Del Habano (Gent, Knokke & Hasselt). One must have thought that there are still many casks of Littlemill lying around to be bottled since every independent bottler today is bottling a Littlemill. The reason why I am such a fan of Littlemill is because the whisky is so easy drinking and yet distinctive with its Lowland qualities. To my surprise, all my previous 3 bottling are so different in nose and taste. This makes Littlemill very interesting because I aim to bottle as many great Littlemills out there as much as I could get. Every cask that gets bottled is one less in the world. It's a whisky to be cherished and that is why I find it so meaningful to drink a dram of this everytime.

The 8th release Littlemill is my fourth one of my label and I still get amazed by the tasting notes everytime. The 1st Littlemill was very tropical fruity, the second one was very lemon-y and clean, the LCDH release was fresh with tea notes and now this one is warm and complex. One of our friends said that this was the best Littlemill expression ever from the release. Well, I think all the Littlemills from the release was special in its own way and this one is definitely another hit!

On the nose, this Littlemill reveals a complex intertwined of aromas from vanilla, honey, candied lemon, warm pineapples and bread dough. On the palate, it has hints of lemon zest, the waxiness and honey notes were present and coupled with creaminess of the whisky, it sends a warm feeling throughout the body. Another bottle one could easily finish while playing poker. Although I wouldn't suggest that unless you are the winning party!

Please send an email to info@eilinglim.com if you are interested to get your hands on the bottle!